Ever wonder how much it costs to outfit someone who one day might save
your life, your house, or your children?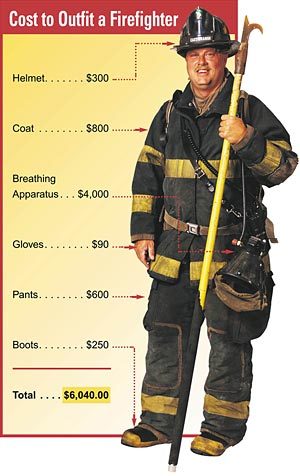 And that is just for Turnout Gear....
Carroll County is one of the few areas in Maryland that is protected by volunteer fire departments. There are fourteen independent departments in the county that work together to provide excellent fire and pre-hospital medical coverage. As the Reese/Finksburg/Westminster area continues to grow, so does the number of emergency calls we respond to each year. Last year alone, our department responded to 701 Fire/Rescue calls and 1,008 EMS incidents.
In an effort to keep up with the growing demands of the community, we have over the past several years added full time and part-time personnel to compliment the volunteer members to ensure around the clock coverage and protection to the community. Although Carroll County government does provide us with funds, additional funds must be raised to fully fund salaries and provide us with operational monies to maintain our equipment, building and grounds.
To maintain our present level of emergency services in our community, we must keep our equipment and apparatus in perfect operating condition. The cost of maintaining this service is very high and continues to rise rapidly.
The Reese & Community Volunteer Fire Department is a 501 c (3) tax-exempt organization under the Internal Revenue Code. All contributions to the Fire Company are tax-deductible. Should you be interested in making a donation, please send it to:
Reese & Community Volunteer Fire Company
1745 Baltimore Blvd.
Westminster, Maryland 21157


Thank you for your support!

The Members of
The Reese & Community Volunteer Fire Department