Fire Prevention Tip of the Month:

Click on Picture above to go to the web site
Emergency Preparedness
Are You Ready?
Information By the Baltimore Metropolitan Council
Emergency Preparedness Begins With You.
---
(Exit Drills In The Home)
This is valuable information the whole family can learn from.
Click on E.D.I.T.H or here for more.
"Reproduced from NFPA's Fire Prevention Week Web site, © NFPA 2007."
We at Reese are a volunteer organization that strives for safety for the community in which we serve. We are here for teaching and to protect the citizens of Carroll County. That is why we are committed to helping children and their parent's learn fire prevention.
If you are a parent or teacher that lives in the Reese, Finksburg areas and are interested in teaching your children a valuable lesson in fire prevention, and would like to include the services of our Company please give us a call. We can set up a date to come to your location or you can come to our station.
Please Contact Kati Townsley, Public Relations Coordinator at ktownsley@reesevfc.org at the Station (410)848-7172.
For Interactive Websites Geared Towards Children, Please Check Out These Fun Links: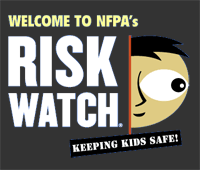 University of Oklahoma's Kid Safe Website: Interactive Q&A regarding Fire Safety and Excape Plans from the Home
The Great Chicago Fire: National Fire Prevention Week has its roots in the Great Chicago Fire of October 9, 1871. This quick-spreading fire killed 300 people, left 100,000 homeless, and destroyed more than 17,000 buildings. How did it start? One popular legend tells the story of Mrs. Catherine O'Leary milking her cow when the animal kicked over a lamp, setting the O'Leary's barn on fire. The blaze burned more than 2000 acres in twenty-seven hours. The City of Chicago rebuilt quickly, and within a couple of years residents began celebrating their successful restoration by memorializing the anniversary of the fire.
Staying Alive: Staying Alive is a non-profit organization that promotes public safety education through classroom and community multimedia presentations; public informational displays at schools, events, shopping malls and community centers; public awareness campaigns; and through information, interactive games and exercises available on its Internet web site. Staying Alive has developed a successful age-appropriate curriculum program targeted at K-8 students to raise awareness about fire safety.